Top Ten Worst Anime Dads + 2 Just for Fun
Editiors Note: For this post I would really like to thank for their contribution kdrudy, cthulhufish, thirteenthDoctor, mrHackscorpio stellaLux and Vanheim of Reddit. It is thanks to their valuable contribution that I was able to finish this worst anime fathers blog.
I do not know why I found it easier to dig up 13 terrible anime fathers. I guess many mangaka artit had a terrible experience with their fathers. Ozamu Tezuka for example earned the wrath of his old man when he became a Mangaka artist. Imagine during the 50s when graphic novels where not popular… I can see it clearly Ozamu goes up to his old man and says "Dad, you know that I just graduated from med school but I really wanna draw graphic novels". It's a miracle that his old man did not hara-kiri poor young Ozamu Tezuka. It is really a hard choice of lifestyle. After all, dads in Japan want their kids to follow in their footsteps and uphold the family honor ect. So the fathers of these closet otakus wrote the master pieces that we enjoy today. It is not wonder that there are so many anime parents circulating. They are much more common than good dads in anime. Anyhow, I had a hard time choosing 10among the many terrible anime fathers of all time. I also added three more just for fun because they are really awful human beings when looking upon the right angles.
12- Barret from Final Fantasy 7
Anyhow, the first runner up in the list of terrible anime dads is Barret. Over the surface he seems like a caring father for his adopted daughter Marlene. However, if you consider the fact that he left twice his lil girl alone in Seven Heaven Bar he does not seems like a great guy. I mean it must have been traumatic for a lil girl of seven to tend to a bar filled with drunken guys. The first time around she had Tifa to help her however the second time around she was all alone. So while his poor little girl was all alone he was going off to save the planet by blowing up Mako reactors. That is one man devoted to Green WAR. It is no wonder that Tseng found it so easy to kidnap the little girl. She really had not one to look after her. So neglectful father wise he has earned slot number 12.
11-Genma Saotome from Ranma ½
Genma Saotome was nominated by my friend kdrudy from Reddit.Genma is another misunderstood paternal figure. Like Barret, he sacrificed the safety of his child for a greater cause. His neglect becomes most apparent in the trauma that Ramna experience when he was a small child. He decided to teach Ramna the fighting style of neko cats. Apparently he did not understand the sarcasm of the author of the martial art manual that he read. In any case, he threw Ramna in a cage filled with cats and left him alone for like a week. When he came out Ramna's mind had become warped. Whenever he encountered a cat he wentcat like upon it. He really did scar his son for life.
10- Hohenheim of Light from Fullmetal Alchemist First Version
The next terrible human being is Hohenheim of Light. He was a terrible father not only to Al and Alphonse but to his son Envy. Let us start with Envy. First he creates this twisted version of his son. He treats him nice, lives with him and his mother and up he goes and abandons Envy. He could have taken Envy him and lived with him and Trisha. But no he wanted to have afresh start. He is not allowed to have a fresh start. How dare he abandon his poor son Envy to the sick machinations of Dante. Needless to say Envy did not take the situation rather well. Since he was abandon by Hohenhiem he turned his rage upon the Elric brothers. Scientist much shows responsibility for the monsters they create. They are in essence their children. Plus, Envy was made from a psychical portion of his current body. So in essence Envy is technically his blood son… theoretically speaking…
As for the children he had with Trisha he was even more terrible. He abandons them to their own luck because he was too much of a coward to show Trisha what a monster he was. He was a coward, a loser. He waited like 10 years to visit them again and by that time Trisha was dead and buried.What of his children did they not deserve a father to look after them and teach them proper alchemy? He was a no good coward. That is why he is both a terrible father and a terrible human being.
9-Oga from Beelzebub
Worse than Hoenhime we have Oga from the anime show called Beelzebub. Oga alone is a terrible human being. Most of his teaching to the baby is how to mistreat those who are weaker than you. Half the show he spend trying to get rid of Baby Beel. The other half he spent on trying to use him to defeat all those who opposed him. He hardly ever fed the kid only when heshocked him. If Baby Beel did not shock him whenever he got far away from him he would have ditched the kid like millions of years ago. He really did notwant to become an adopted father since he first "found him". For trying to abandon his kid, Oga has earned slot number nine.
8-Jetch from Final Fantasy X
Jetch is a special case. My favorite part was when he showed the Jetch shot to his son Tidus. He told him "you can't do it kid, but don'tworry my boy you're not the only one. I am the Best!". He really was a terrible father to his son. While he was around he managed to hog all the attention of his groupie/wife. She was all eyes for Jetch, so much so that she let herself die when he was "kidnapped" by Sin. Another one of his memorable phrases is "why leave for today what you can leave for tomorrow". That was his excuse for not quitting drinking. Imagine, a drunk sports jockey for a father. He really was a terrible human being for half the game. And the other half of the game he spent butchering people left and right in the form of Sin. He really is a terrible human, a terrible monster and worse of all a terrible drunken father.
7-Gozaburo Kaiba from Yugioh
Kaiba was both a terrible father and a terrible human being.His first act of cruelty was to save in a PC the mind of his son. HE used to visit him until he realized he could not make due with a virtual son. After he lost to Seto, he dedicated into turning him into Gozaboru junior. He was seriously cruel during his lessons with his son Seto. In the graphic novel, he had Seto with a doggie collard during his lessons. Whenever he would get a problem wrong he would insult Seto and beat him in a most merciless fashion. He also kept Mokuba away from his brother in order to harden Seto. His final act of cruelty occurred after Seto took over Kaiba Corporation. He was so bent on turning Seto into Gozaburo junior that he jumped out the window to teach Seto that losers deserve to die.Needless to say, this final lesson finished warping the mind of Seto. In both versions, Gozaburo is shown as a terrible human being.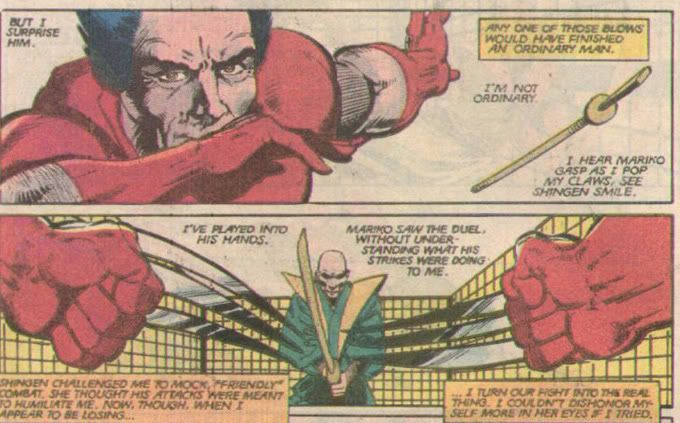 6- Shingen Yashida from Marvel Wolverine
Shingen is just the worst kind father. His first act of cruelty was to whore off his one and only daughter to the yaoi Hideki Kurohagi.His second act of cruelty was to beat to near death her ex Wolverine. He really is the worst kind of person. Shingen thought the show was shown to display a sick twisted pleasure at hacking away at wolverine. Logan was his eternal punching bag. He did not care that his daughter watched. She was just a tool for him to gain control of the disgusting island called Madripoor. Frankly, the fact that he sold his daughter for such a disgusting place speaks very negatively of this man. He really is a terrible father.
5-Emperor Charles li Britania from Code Geass
Charles is just the worst human being in the history of mankind. He was nominated to slot number five by mrHackscorpio and Vanheim of Reddit. His funerary speech shows no signs of regret at the lost of his son Clovis. He saw Clovis as nothing more than a pawn, a piece worth discarding forthe sake of expanding the Britanian Empire. With his son Lelouch and his daughter Nunally he was even worst. When their mother "died", he exiled both his son and daughter. They both would have died among the terrible carnage of Charles war if luck had not been on their side. His cruelty did not stop there.When his son was captured for being Zero he rewrote his memory to lure out CC.He deprived him of his sister and gave him a surrogate assassin replacement brother to keep an eye on him. He truly was the worst human being, the worst king the worst father, the worst everything that ever walked the earth.
4-Gendou Ikari
Just when I thought that a worst father could not be thought up Gendou Ikari enters the limelight. He was nominated to slot number four bycthulhufish and thirteenthDoctor from Reddit. His awfulness is twofold. For starters he abandons his son Shinji Ikari to his own fate. He only called him up when he needed him to pilot Eva 01. He would not have remembered he had a son if Rei had not lost against the Angel. He only acknowledged him when Shinjimade himself useful. When Shinji refused to pilot the Eva 01 he had him on house arrest like some common thug. He really was an awful father to his son Shinji. However, this is just the tip of the iceberg. You may not realize it but in a strange twisted fashion Rei is the daughter of Gendou. His early relationship with her was that of father and daughter. He raised her to be submissive to his every fancy. He did not care how much pain she had to endure as she was killed time and time again while pilot. Heck the impression that Evangelion gave me was that he was raising the clone of his wife as his obedient daughter to become his wife when she grew up. This alone makes him a terrible human being.
3-Shau Tucker
Shou Tucker is not only a bad father but a terrible human being in general. He was nominated to slot number 3 by stellaLux. To pay the rent he turned his wife into a chimera. He pulled the same stunt on his poor daughter Mina. Unlike the first time around he did it out of purely scientific reasons. He told Edward that he desired to play god with his daughter Mina. He did it because he could, for no other reason. He wanted to maintain the lifestyle that he had. However, with or without alchemy, he was already doomed.If he transformed his daughter he lost his reason for being. If he did not do anything he would go back to being a Nobody. The fact he chose the latter makes him a terrible father.
2- Hojo from Final Fantasy 7
Hojo is the father of Sephiroth. Nothing else needs to be said.
1-Yujiro Hamna from Baki the Grappler
The worst father of all time is Yujiro Hamna. Early in life, he took a sick twisted pleasure in beating his son Baki half to death. He called his routine beatings training. He wanted his son to follow in his footsteps. Allow me now to describe what Yotshiro's footsteps are. When Yujiro goes for a walk he likes to assault random pedestrians. He would kill anyone that stood in the way of his training. His most notorious "walks" was the stroll he took inside the presidency house of Japan. His pal dares him to kill the president and he almost did but at the last second he saw a puppy and went off to step on it. He really is the worst kind of father for desiring his son Baki to become like him. All his training was meant to make his Baki into his personal punching bag. In one episode, he visited his son with the head of the Yasha ape that Baki chose to spare. In another, he beaten up the opponent that his son failed to finish off (or leave in a comatose state). However, his biggest cruelty occurred during his fated duel with his son in Baki Part 1. He let his son have the first 40 moves. When Baki was most desperate because his father was not flinching he went all out against his poor 14 year old son. When his mother intervenes he killed her and dropped her lifeless body on top of the boy. Since Baki was not getting up anytime soon he went to beat up Baki's friends that dared intervene in his duel. He truly is the worst father in anime history. I hope you have enjoyed reading this as much as I enjoyed writing this blog.
Related posts:
Anime Kida : Anime Kida patch blog : Anime Kida Worst father's day countdown.