Cosplays 
Part of the Anime culture is the art of cosplay. It is an odd fashion statement made by otakus in order to show their support for the anime shows they prefer. The earliest cosplay tradition dates as far back as the 1600 in Spain, La Mancha, where the Don Quixote used to do a cosplay of night. Following his example (unknowingly), cosplayers dress and pretend to be their favorite anime chararacters. Anyhow, here are some cosplays that are rather noteworthy.  Here we have a wonderful cosplay of L. this kid really looks like the character L. He must have spent a lot of time away from the sun, awake all the time in order to have adopted his features. anyhow, 5 stars for this L look alike.
I turly hope this kid is wearing a mask. otherwise , he is one sorry looking human person without the make up. anyhow, 5 stars for this unfourtionate Ryouk look alike.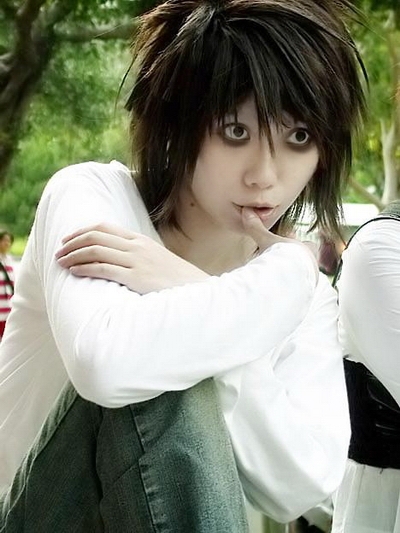 here we have another wonderful L cosplayer. Though something about L's human face makes me think her is the weird neko boy from the Grudge. Anyhow, this odd L look alike has earned a nice 5 star fury rating.
this one does not count. though you have to agree that this L costume or cosplay is quite ingineus and original. this personage is in fact the Alfred of L. Anyhow, he deserves a nice 5 star fury rating.
the next one is a cosplay of the evil god Usurper Light Yagami. Ah.. its truly pathetic to see a human with a god complex. I guess without L , this kid sorta forgot he was human. anyhow, he deserves a nice 5 star fury rating.
laslty we have this gentle near cosplay. this kid harldy need any make up or gimics to look like near. Even physically speaking he is identical to the anime characters. I will stop here , to avoid dead battery crisis. anyhow 5 stars for this near kid.
This one is Maka. Her face is identical but the legs are a bit too developed so it must recieve 3 Star Fury Rating.
Well this one is here because soul looks like soul. This maka does not look like the original mutch. So only 3 Stars for it.
finally, this maka is perfect …5 Star Fury rating. low and behold maka in the flesh
I forgot who she was but she totally looks like the original from the show. so 5 stars for her.
this hot lady looks exacly like Tsubaki (except for the chestal area) so only 4 Fury Stars.
death the kid. he has a killer identical look so 5 stars for him.
THis Sephiroth is freaking impressive don't cha think? 5 Star Fury Rating for him.
I don't know mutch about the sword but the face and looks are identical to cloud. so 5 stars for him.
this one is sick . ha ha ha ha . very ingenious. 5 Star Goddess Rating for him.
Cool…She truly does look like Yuna from Final Fantasy X-2. This costume is amazing and it really compliments the beautiful similitude that lies between both her face and Yunas. Truly this is a Yuna look alike…For that reason this picture deserves 5 star furry not fury rating.
Ins't this cute? it must be quite the arduous task to built a costume around an eon. I mean, they hardly look human if you ask me. This maiden tried her best in building a costume for Shiva who in reality is a hard tough notch kinda monkish blue four armed god. Woah, that was quite the detailed description if you ask me. Regardless, this image deserves a high rating…and it shall receive it in its due course of time. For now it shall have two tentative stars.
Aside from the nose and the eyes and maybe thinner lips this Rikku looks alot like the Final Fantasy Rikku. I suppose it is hard to match the western facial features with the Japanese body-eyes- and facial form. It is truly marvelous that she got this far. But without some facial fine tuning she does fall a bit short in the look likeness about her. Still bodily speaking both could be twin sisters. Anyhow, I should not be too demanding…if anyone ask this maiden is the real Rikku and the other the copy. Thus, 5 stars not three for this little lady.
This one looks identical to Lenneth though the original babe never wore make up. I mean why use make-up if the original game character does not use make up. If you ask me that is a major defect. It is too bad cause all but the painted faked eyes where true and solid to the likeness of Lenneth. Anyhow…due to the violation of the veiled natural beauty expostulated by the FFX games series this image only gets two Abandon star Rating…that means its a negative rating.
God must not love you if you bear a resemblance to Aaron. I mean  he is not ugly per say but he is not cute to look at either. Outside the video game world Aaron would be a very lonely scary looking police officer. Well it is too bad for this kid cause he deserves a 5 star goddess rating for his cursed likeness.
oh woah!! he really does look like the choco buy from FF13. I sorta forgot his name though I remember that his ride is called Brunhilda. Yep that was the name of his personal esper or idolon. Anyhow, this guy's really looks like that fellow so 5 stars Goddess rating.
Most folks will not remember who this guy really is. but anyhow he is an ally that later sold us out to the le'cil and made us into monster. He was a real crooked politician. Anyhow, this Cid Raines of Rubens truly does look like the Cid from that video game. Why does FF always has so many Cids oh and fyi cid means liege in Arabic according to the song of "El Mio Cid". Anyhow, this image deserves a high rating.
This Garaa really looks like Garaa. Though he could have made his eyes a bit darker. I mean it must be pure black in order to be exact. anyhow, just for that it deserves 4 stars.
This Sasuke really looks like Sasuke. I truly like this image a lot. so it gets five star fury rating.
this Sasori really looks like Sasory. Its too bad I could not find one that looked like his ugly puppet version. I guess that would be too hard to ask of providence or human improvisation. Anyhow, this gets five star fury rating.
This is the little helper brat of Sasuke's new super team. I really don't see whats so hot about Sasuke. I frankly loath the character , I mean  he is such a drama queen. Solving things through violence. 5 stars for this little maiden
This Konan look alike is missing one Pain. Add it and she gets five stars.
Here is a small image of a small baby naruto kid. This was the only one that fit 100% percent the look alikeness criteria of this forum. 5 stars for this kid.
Well, we are back to the same point of origin. This is one fine Anemone cosplay look alike girl .truly her round handsome face is delightfu. anyhow, this hot anime cosplay look alike deserves 5 star fury rating.
this Holland anime cosplay look alike truly does look like the anime character called Holland. I mean the face, the expession and the eyes are so Holland of him. anyhow, this cute Cosplay Holland anime wallpaper deserves 5 star fury rating.
tis truly is a wonderful Anemone cosplayer. truly she does look like the hot Anemone girl. Anyhow, this hot Anemone cosplayer deserves 5 star fury rating.
The cosplayer Kanda Minori truly does look like the hot Anemone girl. It seems almost that Anemone is more popular than Eureka. truly, I bet on the wronf ponny. anyhow, this hot Kanda anemone cosplayer look alike deserves 5 star fury rating.
this is quite the pritty hot looking father of Alexander Lous armstrong. truly he looks exacly like that fellow. this fullmetal alchemist cosplayer deserves a nice 5 star fury rating.
this is a very cute cosplay of Edward elric. It is fine to see how this cosplayer reproduced his automail arm. truly this fine fullmetal alchemist wallpaper cosplay desrves 5 star fury rating.
This is one cute chibi winry cosplay. it is so adorable that this cute cosplayer is a lil baby girl. she seems to fit into the persona of the Winry anime character. truly this winry fullmetal alchemist deserves a nicce 5 star fury rating.
Here is a cute Envy Humuculus. truly he looks quite fascinating indeed. His face is quite dashful indeed. truly this fancy fullmetal alchemist Envy cosplay deserves a nice 5 star fury rating.
This is a nice looking Kipi cosplay of the death note character know as Misa Amane. Truly she does look identical to that Misa Misa anime girl. trus she deserves a nice 5 star fury rating.
Here we have Aloida dressed like Misa Amane from the Death note. Her death note is configured to be in the Jap language because it was mean for her own personal usage. thus this Aloida Misa Death note cosplayer deserves a nice 5 star fury rating.
cute kipi
another fine anime cosplay is that of Konatsu. This is a character from Ghost 07. It is such a pretty that the show ended in medias rex. There was something godly about the church. It had a bit of Catholicism combined polytheism. It is truly super retro. Anyhow, this character soldier deserves a nice 5 star anime fury rating.
This is another fine anime ghost 07 cosplay wallpaper. It is freaking amassing that this anime cosplayer recreated the scythe of Fraun. It is truly amassing and his costume looks vine. anyhow, these lot of Ghosth deserves a nice 5 star anime fury rating.
After meditating a lot  I decided to look up Fruit Baskets.This is yuki kun. He is the rat of the zodiac. This cosplayer was even able to imitate the looks of his blue eyes. However, I think they were originally purple. Regardless, this fine fruit baskets anime cosplayer deserves a nice 5 star anime fury rating.
This is one fine Akito anime cosplay. She truly does look like the god who compelled the zodiac animals to eat with him. She is responsible for the misery of all the zodiac anime character. Well, he can't help making them miserable. She will die soon (or so the graphic novel states), plus she is insane. Anyhow, she deserves a nice 5 star anime fury rating.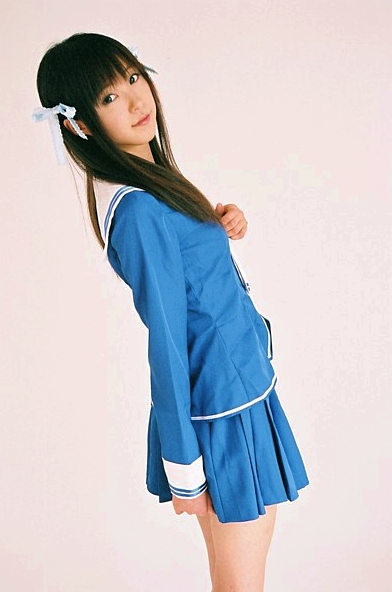 This is another fine Torhu anime cosplay wallpaper. She looks a lot like  Tohru. You need more than clothing in order to look like an anime character. You need attitude to become an anime character. She emanates the same innocence as Tohru. It is this aura that has won this cosplayer a nice 5 star anime fury rating.
After racking my brain  for like 5 minutes I decided to look up some saint seiya anime cosplayer. This is a cosplay of Athena. One has to admire the time and effort spent in the building of Athena's armor. the hair seems to match. Though, I don't remember ever reading that Athena had purple hair. anyhow, she gets 3 stars anime fury rating.
 Like all you old folks remember Trigun is the story of a martian named Vash the stampede. Like all great martians he had an evil twin that wanted to destroy humanity. It is up to Vash to stop his evil plan. Anyhow, above we see a super hot stud doing a Vash cosplay. he has the same face, yaw and expression as the great vash the stampede. It is truly a wonderful cosplay. though the gun seems to be a bit crooked on the side.
Now this wolfwood cosplay is freaking awesome. It is such a petty that this cosplayer chose to go on the safe side and thus reconstructed wolfwood's cross while it was sheathed. but what can you do?
Now this wolfwood cosplayer is packing a big Gun Cross. It is funny the place were he is balancing his giant cross… considering he is Japanese. Still, he might have a bright future if he tries out for the Yakuza. needless to say he makes on fine Wolfwood.
Now this vash cosplayer is quite unique in his choice of weapon. He has recunstructed the mechanical hidden gun that Vash only uses as a last resort. It is truly a neat weapon. It in essence the second gun of Vash. His third and final gun (ie Trigun) is the one he gets from wolfwood after he is killed.
Speaking of which here is wolfwood and vash the stampede sitting together in such a mellow fashion. It is neat to see how these cosplayers have paid careful attention to the classical anime angles. This side profile is totally like a scene straight out of a graphic novel.
You know, now that I think about it the easiest cosplay that only could do would be the mother of Vash. I mean all you need is a white T-shirt and an 80s tight Jeans. Oh and you need to have really long straight hair. Ah Rem, that was her name. She liked to sing a terribly stupid song. I guess it might have sounded cute for the Japanese writer. But what can you expect of a mangaka artist. I mean not all were born to be poets or song writers.
The next wierdo is the evil mind reader boss lakey of vash's bro. He is most infamous for giving the ultimate mind control of a city and forcing Vash to kill him.This was meant to turn Vash into the dark side or so Dart Vader Hoped. It did not work! Though it was close. This whole issue takes root in an argument that Vash had with Knives. With a name like that it is no wonder that he became the main bad guy. I think his name was Legato.
The next wierdo is among the coolest looking cosplayer in the Universe. just look at his cute motorcycle with the gaint cross in his back. This cool wolfwood cosplayer went all out to imitate his personal favorite anime character.
The next lovely anime cosplay is that of the odd neko cat that follows Vash around. Whenever something is going to go terribly wrong this neko makes a brief appearance. It is truly funny that this cosplayer chose this neko cat as his costume.
Related posts:
Anime Kida : Anime Kida patch blog : Anime Kida Cosplays